Case Study: Duke Street Market
14 June 2019
Earlier this year, we won a contract (ahead of another IT service provider) to supply the new Duke Street Food and Drink Market with a range of bespoke IT services.
The Liverpool-based culinary hub is led by Graffiti Spirits Group (the team behind Santa Chupitos, Salt Dog Slims and El Bandito) and the founders of Urban Food & Drink.
Based in a 100 year old warehouse, the new development covers 5000 square feet, and contains six food businesses, three bars, a flagship restaurant and even a florist! It is set to be one of Liverpool's hotspots this summer, which is why our involvement is even more exciting.
Data Cabling
With the aim of providing a fully-comprehensive and bespoke service, we were responsible for setting up a multitude of resources. The first step was to configure all of the data cabling, which involved installing 40 data cables, as well as a data cabinet to house all of the hardware. The cabinet is stored in the basement and runs up to both the ground and first floor, which you can see pictured below.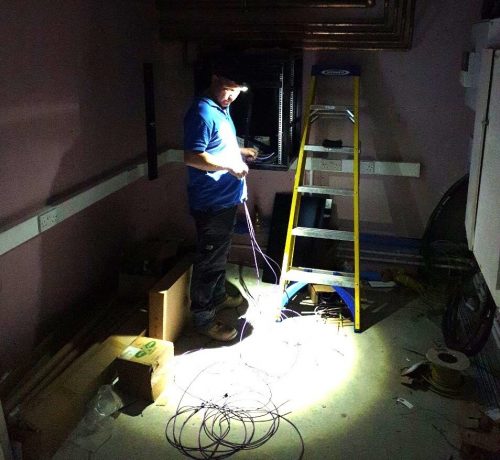 In the event of a fault, we provide 24 hour emergency fibre repair. With this in mind, you might assume that we only rent out data cables, which is what most ICT service providers offer. In fact, we actually allow businesses to purchase these cables—something which can be cheaper in the long run—whilst also offering continual maintenance.
Wireless Network Setup
The next step involved setting up a wireless network. We began by conducting a physical on-site survey to determine the network coverage and capacity, before implementing the wifi connection.
As part of our bespoke package, we have provided the market with both corporate and guest wifi access. The data will be reported back to ICT Solutions so that we can monitor any suspicious activity, and any excessive usage be instantly blocked, e.g. if someone attempts to download a film. This is provided through Amazon Services (AWS), a flexible cloud computing platform that we will help to manage.
P.O.S. Tills and VoIP Phones
To make the most of our comprehensive wifi provision, Duke Street Market has chosen to use wifi-operated POS till systems and VoIP phones. ICT Solutions will provide ongoing support to make sure that everything runs smoothly, and in the event that something goes wrong, we are always on hand to resolve any issues as soon as they occur.

ICT Solutions Can Help You
Our unique approach means that we can offer a fully comprehensive service, something that most other providers are unable to do. For example, a lot of companies will simply install data cabling, but won't then provide an accompanying wireless network.
As well as offering an all-in-one solution, our focus is on flexibility and meeting the specific needs of your business. In the case of Duke Street Market, this type of project would have normally taken around 4 days for us to complete, but because of coinciding building repairs, we were happy to plan around their schedule and spread the work over a longer period of time.
If you're looking for an independent and dedicated IT service provider for your business, get in touch with ICT Solutions today.
---