Commercial CCTV Installation
Complete turn key CCTV Systems

CCTV is an essential addition to your building if you're looking to improve security.
Gone are the days of grainy, low resolution, and low frame-rate CCTV, you can now install surveillance cameras that record in high definition and can be monitored remotely.
There are several options to consider when choosing CCTV, and we treat each CCTV installation as a unique challenge to make sure the system is made bespoke to your needs. Choosing to install any type of CCTV system with ICT Solutions will instantly make your building more secure and more likely to deter criminals.
HD CCTV SYSTEMS

HIGH DEFINITION RECORDING
CCTV, or closed-circuit television, can conjure mental images of grainy, stuttering footage that is basically useless for identifying anything more about an intruder than their species. Modern HD CCTV, however, is a different story, recording footage in up to 1080p resolution and at normal frame rates.

WATCH LIVE ANYWHERE
HD CCTV using a digital video recorder (DVR) or network video recorder (NVR) means you have the storage space to maintain excellent video quality while still never missing a second of footage. You can view the footage live from anywhere through an internet connected device using IP CCTV or can opt to have a central monitoring station that is dedicated to surveillance.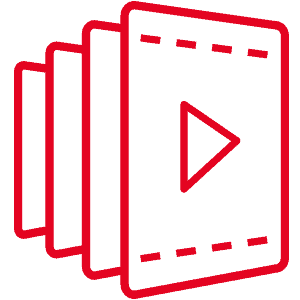 QUICK SEARCH FUNCTION
You also won't have to trawl through weeks of footage to find what you're looking for. To enable greater efficiency, we offer Intelligent Video Analytics (IVA) to quickly search videos corresponding to particular modes (includes motion detection, foreign/missing object, out of focus, and camera occlusion) to screen for critical recordings.
OUR CCTV INSTALLATION PROCESS
We don't take security lightly so our four stage process for installing CCTV reflects the thoroughness that we think should be put into protecting your business premises. We begin with a survey of the premises to get an idea of how we can work with the space and existing infrastructure.
Once we've completed the survey, we'll design the perfect CCTV system for you, taking into consideration your needs. For example, an office building might not need 24 hour surveillance while a newsagents most likely would want it.
With the design completed, we move on to installation where we keep your needs in mind again, doing anything we can to minimise the disruption to your business. The final step in our installation process is a post-implementation survey which involves us testing your new CCTV system to make sure it's up to scratch.
CCTV REPAIR, SERVICING, AND MAINTENANCE
If you've got a CCTV system that you think might be outdated or not operating up to standard, we can still help! We offer CCTV repair, maintenance, and servicing so that you can be sure that you're getting the best quality footage, viewable in the most efficient way.
Get in touch
TO FIND OUT MORE ABOUT HOW WE CAN HELP YOU, GET IN TOUCH TODAY.
0151 230 2424
Alternatively leave us a message via our contact form and we'll get back to you!