Point To Point Microwave Link
Fast, reliable, and secure, elegantly solving your connectivity conundrums
ICT Solutions install wireless point to point microwave links – a cost effective method of creating a wireless data connection between nearby buildings.
This means you can share an internet connection between buildings on a campus, in a commercial complex, or pretty much anywhere else without having to spend the time and money on building infrastructure.
Point to point microwave links are fast, reliable, and secure, making them the perfect choice for elegantly solving your connectivity conundrums.
BENEFITS OF A POINT TO POINT MICROWAVE LINK
There are a wide range of benefits to choosing a wireless point to point microwave link over traditional fibre leased lines, including: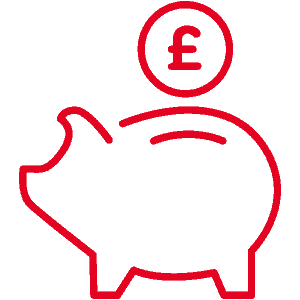 COST EFFECTIVENESS
A wireless point to point link means you don't have to dig up the ground or lease fibre lines annually, both of which will cut your costs significantly. There are also next to no operation costs for a wireless link, so you'll rapidly see a return on investment.

RELIABLE AND SECURE
Point to point wireless links are private, robust, and reliable with inbuilt protection that will safeguard your connection from any potential threats.

FLEXIBLE AND SCALABLE
With the capacity to deliver connections between 50Mbps and 2Gbps, point to point wireless links are able to scale with your growing business requirements. A wireless link can also be established at distances up to 100km.

COST EFFECTIVENESS
As opposed to the drawn out process of installing lines and the hassle that comes with it, point to point microwave links are quick and easy to set up. The whole process takes a fraction of the time it takes to do it the traditional way and is much less intrusive.
WHO CAN USE A POINT TO POINT MICROWAVE LINK?
Wireless link technology can be used by organisations and businesses of any size to link two nearby premises together. It's particularly valuable for companies that are expanding physically, keeping an existing office location while also beginning to work from a new one.
It can also be used to provide internet connections to otherwise 'offline' locations such as clubhouses and warehouses that would be difficult or unfeasible to lay physical lines to.
WIRELESS POINT TO POINT LINKS FROM ICT SOLUTIONS
We've got experience installing point to point links for diverse businesses and we use a bespoke approach for each client to make sure the setup process and operation is suitable for your individual needs. Contact us today if it sounds like a point to point microwave link can solve your problems or if you've got any questions about how it would work for you.
More on Point to Point Microwave Link
Get in touch
TO FIND OUT MORE ABOUT HOW WE CAN HELP YOU, GET IN TOUCH TODAY.
0151 230 2424
Alternatively leave us a message via our contact form and we'll get back to you!