Access Control
Commercial Door Entry Systems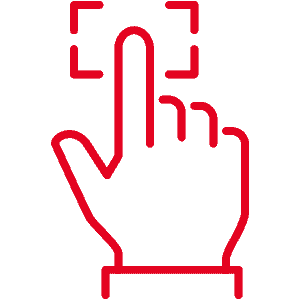 Want to keep your business safe and secure, while also eliminating the need for the majority of your staff to carry keys?
An access control system, otherwise known as keyless entry technology, is a great way of modernising and securing the entrances to your office or building.
We can design and install bespoke access control systems that will keep your entrances secure in a way that suits you, your business, and your employees.
TYPES OF ACCESS CONTROL
There are three main types of access control technologies that are commonly used; proximity based RFID (radio frequency identification) fobs or cards, biometric technology using fingerprints or retina scans, and more humble card readers. There are different key benefits to each.

RFID TECHNOLOGY
RFID technology is simple but effective, taking the least time to operate and having few downsides. People are already used to carrying keys so replacing these with a proximity based electronic fob is a manageable change.

BIOMETRIC TECHNOLOGY
Biometric technology is the most advanced of the three common technologies, often reserved for more secure facilities. It eliminates the possibility of intruders gaining access by picking up lost keys or fobs but can also take more time to operate.

ACCESS CONTROL CARD READERS
Access control card readers are the oldest of the three technologies but are no less effective. An access card can slip into a wallet or purse, taking up essentially no room, and they're quick and effective to use.
SECURE ACCESS CONTROL
Access control systems using any of the three most common technologies are more secure than most regular entrances to buildings. One great security feature of access control using fobs or cards is that permissions can be added or removed for individuals at will, so if you let someone go or take someone on, it's simple to give them access.
You can also improve the security of your premises by having CCTV integration with your access panel. By doing this, you can trigger a recording everytime the access control panel is activated meaning that no one will enter your building without you knowing who it is.
OUR ACCESS CONTROL INSTALLATION PROCESS
You might think that an electrician is the right professional to call if you want an access control system set up for your business but the truth is that an IT support company is better equipped. This is especially the case if you want a system that incorporates tracking and reporting on use.
Our approach to installing access control systems involves four steps. We first survey your premises and get an idea of any potential issues or obstacles that could get in our way. Next, we'll come up with a design that perfectly suits your business needs and ensures maximum performance.
Installation is done in a way that minimises disruption to your business. Our aim is to avoid any network downtime or loss of productivity while we're working. Once we've completed the implementation of your new access control system, we'll complete a final post-installation survey that makes sure everything is working as it should.
Get in touch
TO FIND OUT MORE ABOUT HOW WE CAN HELP YOU, GET IN TOUCH TODAY.
0151 230 2424
Alternatively leave us a message via our contact form and we'll get back to you!